God calls us to participate in His redemptive story — to love Him, to love others and to share Christ's love. Compassion International exists as an advocate for children, to release them from their spiritual, economic, social and physical poverty, and enable them to become healthy and fulfilled Christian adults — all for God's glory.
"Love the Lord your God with all your heart and with all your soul and with all your mind ... Love your neighbor as yourself." — Matthew 22:37-39, NIV
Your Partnership in Colombia
Christ's Church of the Valley, your generosity and heart for the world are making a profound difference in Colombia. Your investment has funded the launch of nine new churches and child development centers which are impacting their communities. These churches are practical demonstrations of Christ's love as their members experience the good news of the gospel. Your partnership with Compassion began in 2017. Since that time, 10,219 children have been sponsored by members of your church! Today, 7,513 sponsorships are still active.
The Local Church
As the cornerstone of Compassion programming, local churches are best positioned to share the love of Christ with their neighbors. The local church is God's plan for engaging the world and bringing hope, healing and the gospel of Christ. Fighting poverty is more than providing economic resources — it is defeating the lie that we are unworthy of God's love. At the heart of all Compassion's work is our commitment to release children from spiritual poverty. Our local church partners serve children in their communities through Compassion child development centers.
Since 1974, Compassion has been working in Colombia to lift children out of poverty in Jesus' name. Today, more than 96,000 children are benefiting from Compassion's support and care at 298 child development centers across the country. There are more than 10,000 children registered with Compassion in Colombia waiting to be sponsored. Every one of these children receives the nutrition, access to health care and educational support they need to overcome poverty and grow into fulfilled, self-sufficient adults.

Since 2010, Compassion has facilitated almost 300 church plants in 13 countries, including 54 church plants in Colombia. Your generosity has contributed to the establishment of nine church plants in Colombia. Compassion's church-based efforts are key to its effectiveness. A local church identifies nearby communities that would benefit from ministry and begins to build a reputation there. Compassion comes alongside this "mother church" to support its efforts to establish a permanent "daughter church" in the new community. The mother church continues to mentor and support the new church until it matures enough to support itself. The church grows through its community involvement and its commitment to meet real needs.
Nine Churches Planted in Colombia Through Your Support
As shown as the map below, your investment has funded the planting of nine new churches in Colombia. Each Colombian church is listed, along with the affiliated CCV campus.
CO0546 - Chandler

CO0589 -  Peoria

CO0650 - Avondale

CO0718 - Scottsdale

CO0801 - Surprise

CO0821 - East Valley

CO0822 - Midtown

CO0823 - Anthem

CO0719 - North Phoenix
Child Development Through Sponsorship
How does church planting relate to Compassion's desire to help release children from poverty? The new church becomes the center for child development and the life-changing experience of child sponsorship. The local Compassion staff members offer a holistic development plan to registered children, aiding them in spiritual, physical and educational growth. Children are then connected with sponsors who provide love and encouragement.
Your Sponsorship History
Members of Christ's Church of the Valley's leadership team traveled with Compassion in November of 2016 to Brazil and November 2017 to Colombia through Compassion's partnership with Stadia. In collaboration with Stadia, Compassion worked with Christ's Church of the Valley to fund nine church plants in Colombia and plan their first sponsorship event.
Christ's Church of the Valley held their first Compassion weekend on December 2nd, 2017. The goal was to sponsor every child available for sponsorship in Colombia. The church exceeded that goal, sponsoring 9,979 children in one weekend!
Your Church Trips
Over 300 members from Christ's Church of the Valley have participated in 22 church trips to visit church plants in Colombia. We hope that your members have been as blessed as those they visited. These trips have been life-giving for the pastors and children in Colombia. When sponsors and supporters invest time and resources in communities experiencing extreme poverty, it sends a powerful message. Children begin to believe that they are loved and valued and that they have hope and a future.
"It has been a great blessing to know that some people who live far away have come all the way to this community to invest their time and resources. Our church and families have been blessed by knowing that they pray for them and give them support. It is a great joy to share experiences and prayer time. Children got super excited to meet their sponsors and so did we. We gather together at church to pray for supporters because they have become our family. God's family is huge."

Pastor Rafael, Koinonia Church, CO0589

"Seeing supporters' ability to serve has had a positive impact on parents. They play with kids, they are humble and they place themselves to the position of a child to share with them. After their visit, parents always ask about the supporters and pray for them."

Pastor Juan Carlos, Aliento del Cielo Church, CO0821
Thank You for Your Investment
Your generosity has facilitated the launching of nine new churches and given them capacity to open Compassion-assisted child development centers. All of these churches are in areas that greatly need the message of Jesus Christ and the accompanying care that is best delivered through a loving, local church.
A Message From Children in Colombia
We hope that this video brings you joy and a glimpse of the powerful impact of your support. Thousands of children in Colombia are experiencing Christ's love because of you! It is a privilege to partner with you.
Christ's Church of the Valley,

Thank you for partnering with Compassion International. I welcome the opportunity to talk with you about your goals for the kingdom and future partnership opportunities. I would be honored to connect with you.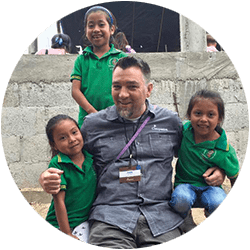 Church Relations Manager,
Compassion International